Personal project, Copenhagen, 2023
Big thanks to Melina Wolff, Unique Models, Nasra and the Lab for making it possible!
Concept and Styling: Nora Jelinek
Art Direction and Photography: Viktor Jelinek
Model: Nasra
MUA: Melina Wolff
Model Agency: Unique Models Denmark
Studio and EQ: The Lab
An Egg


Form, Copenhagen, 2022

Editorial, Denmark, 2022
A personal project in collaboration with a tremendous artist, dancer, performer Kristian Mensa.
A series of portraits featuring four protagonists, each with a unique story and character.
Client: JEEP
Agency: Leo Burnett
Executive Producer: Urban Studio
Creative Concept: Alex Jindrak/Urban Studio, Nora Jelinek
Creative Director and Director: Alex Jindrak
DOP: Patrik Jelinek
Production: Nora Jelinek, Urban Studio
Photography: Visual Narrative/Viktor Jelinek
Video Editing: Matěj Beran
Sound: Vojta Knot
Color Grading: UPP/Pavel Marko
Commissioned by Happy Haus
France, 2021
Founder of Happy Haus about the company:
"My greatest commitment to the planet is to create clothes that can be worn all year round and for as long as possible."
Commissioned by Bonami, Prague, 2021
Curtis Institute of Music
in Philadelphia, 2021
Concept by Curtis and Visual Narrative
Project manager: Matthew Hagestuen
Photography: Viktor Jelinek
Styling: Nora Jelinek
Gaffer: Patrik Jelinek
Editorial, Prague, 2021
Concept, Styling: Nora Jelinek
Clothes: Tereza Rosalie Kladosova, Natalie Dufkova
Model: Agnes T.
MUA, hair: Jindrich Ziegelheim
Commissioned by Fahad Awadh, Tanzania, 2020
Visual Narrative spent ten days capturing new visual materials for various purposes such as website, social media, ad campaigns and print.
The goal of the project was to create a private archive that would capture the whole process, the story behind cashews from seed to tree, to roasting, flavouring and packaging.
Editorial, Prague, 2021
The poetry of
Tereza Rosalie Kladošová
's work depicts photographs in one of Prague's largest gardens - Petřín, near the Strahov Monastery. It is possible that a wandering club of sisters visited there and planted the strangest varieties of flowers. Though the flowers are still sleeping under fresh snow and similarly the whole Prague will fall asleep in a few hours. The Spanish undertone in the silhouette anticipates the near warming, the coming spring. And with it we will discover which kinds of flowers were planted.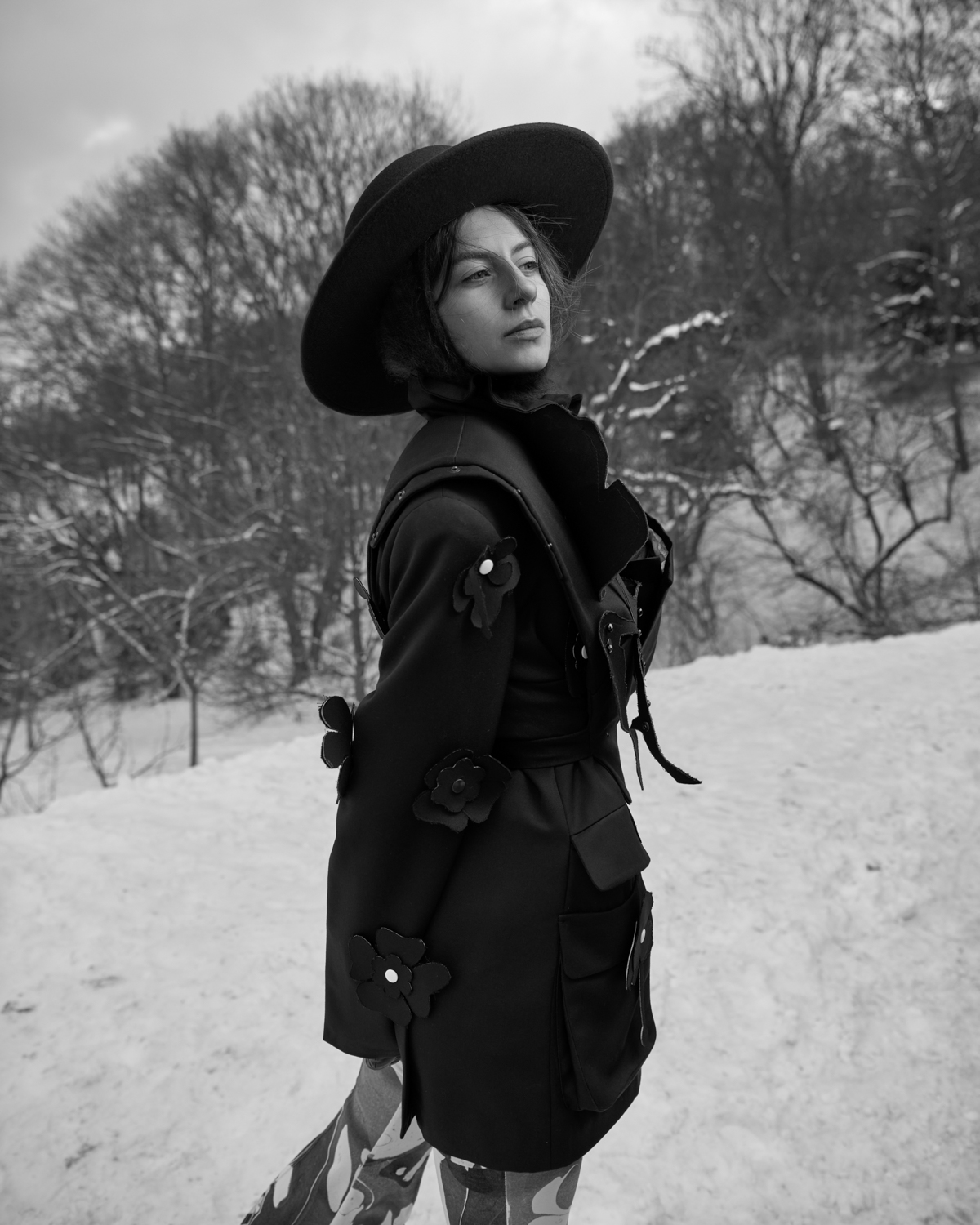 The Art of Fragrance:
Frozen Memories conversation with Lena
Copenhagen, 2018
We met with Lena in Glyptoteket in Copenhagen, in one of her favourite places where she likes to relax, clear her head and "nose", and to think about her current perfume creations. We spent a whole afternoon there, filled with long conversations, warm smiles and inspirational atmosphere. Lena shared her story with us, the process of fragrance making and we also got to talk about her upcoming perfume created for FRAMA that is yet to be discovered at the 3 Days of Design, an annual design event.
Commissioned by Nila, London, 2019
Kowtow is a collage of a unique yet timeless design and a strong set of values that is a direct reflection of Gosia Piatek, a Polish refugee who found her new home in New Zealand but recently moved to London, and went on to dedicate her life to environmental activism and social responsibility. With a strong moral compass, it was only natural for Gosia to create something with value and longevity.
Case study, 2020
Chumbe Island Coral Park Ltd. (CHICOP) is an award-winning private nature reserve that was developed from 1991 for the conservation and sustainable management of uninhabited Chumbe Island off Zanzibar.
We had the privilege to create a complex solution of visual materials for various marketing purposes.
Costa Rica, 2018
It turned out to be an absolute blessing to experience being a minority in this group of people with different handicaps. What stood out for us the most is that despite their disabilities, the atmosphere was full of joy, passion, determination and friendship. In a matter of seconds, we found ourselves overwhelmed with respect, perhaps even adoration, towards these people and their will to achieve and win.
Commissioned by Denik Pravo, Czech Republic, 2020
It has been quite a year for Klusovi as well as for everyone else. 2020 brought many challenges. Despite the spacious outdoor land, Tamara and Tomas are building their new home at, the place for living felt small. Three kids, two dogs, Tamara and Tomas in a small two room temporary house in the middle of a lock down while the oldest kid had to attend online classes and the younger ones needed attention 24/7, it just felt small at times. "People who live in small apartments on the outskirts of towns with thousands of other people are the heroes of today," said Tamara.
Personal project, Italy, Sicily, 2018
Five thousand kilometres. Eight days. This is how long it took for us to travel throughout Italy and follow the steps of volunteers and missionaries, who willingly help refugees and attempt to make sure their basic human rights are being met on daily basis. Approaching new people set off a chain reaction which resulted in meeting real visionaries.